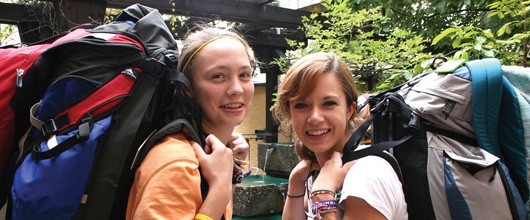 Travel
Girl Scouts love to travel—from the field trips they take as Brownies to the global adventures they go on as teens. If you love exploring different places and cultures, then Girl Scouts is the place for you.

You can experience all that our country has to offer, whether you're "blasting off" at Space Camp in Alabama, taking in a Broadway show in New York City, or visiting the birthplace of Girl Scouts' founder, Juliette Gordon Low, in Savannah, Georgia. And you can plan even bigger adventures around the world, traveling with other Girl Scouts who share your love of adventure.
Check out Girl Scout Destinations, the ultimate adventure program for girls ages 11 and older. With a ton of different trips to apply for every year—from surfing camp on the east coast and breathtaking hikes out west, to the crazy-cool wonder of new cultures abroad—there's something amazing for everyone to experience.
Make friends from all over the country as you travel with Girl Scouts from different states, see and learn new things, and pack your bags full of inspiring, life-changing experiences and memories. Find your trip today!

Destination Information
Get ready to apply for 2023/2024 Destinations! Applications will open on September 20th for Destinations across sixteen states and fifteen countries.
The website is also moving to a new home. Visit girlscouts.org/destinations on 9/20 to get all the new trip details and to apply!
Did you know that Girl Scouts can use cookie dollars for their Destinations trip and Girl Scouts of Kentucky's Wilderness Road will match it! Destinations are your only opportunity to save Cookie Dollars from year to year –you can use any year's Cookie Dollars on Destinations, even if they have expired. 
Helpful Resources

D-Pass Scholarship

Attending a GSUSA Destination can be an incredible, life changing experience. To ensure all Girl Scouts have access to such a unique travel opportunity, GSKWR is excited to participate in GSUSA's D-Pass program!

The D-Pass is a grant, awarded to GSKWR, to support girl travel on GSUSA Destinations, with a focus on girls in need. The grant financially supports girls who otherwise would not be able to attend a Destination and helps to ensure diverse representation in Destinations. Think of the D-Pass like financial aid for travel!

Guidelines

Funding is for registered members of Girl Scouts of Kentucky's Wilderness Road only.
Funding can only be used for Destinations (cannot be used for Getaways, troop travel, travel to National Council Session/Convention, or for any other council-sponsored trips).
Girl Scouts applying for funding must have already been admitted to a Destination. The application requires proof of acceptance, such as an acceptance email from the Destination sponsor.
Each girl awarded should also demonstrate a willingness to contribute through participation in money-earning activities (through product sales such as the Cookie Program, other money-earning activities, or personal money-earning).
Once funding decisions are made, applicants will be notified via email.
If unable to attend the Destination, the applicant will notify GSKWR, and the Destination sponsor immediately to request a refund.

2023 D- Pass Grant Timeline


December 1, 2022: Application closes
December 15, 2022: Funding decisions announced

Reporting Requirements


Applicant must complete a D-Pass Grant Girl Response From
Applicant agrees to write a blog post and help promote Destinations by sharing their experience with other girls. 

Ready to start the application process? Click Here

Not ready for a trip by yourself? Think about planning an adventure with your troop! Check out Girl Scout Getaways! Getaways are short travel programs designed specifically for Girl Scout troops. 
Want to plan a troop trip yourself? Check out Planning Trips with Girl Scouts to find out how! 

Where can you go?  Places like China, Costa Rica, Switzerland, Patagonia, Peru, Scotland, Germany, Mexico, and more!
How far will your Girl Scout experience take you? That's up to you!