Blog: Along Kentucky's Wilderness Road
You know those parents who always step up, lend a hand, and bring the fun to your Girl Scout troop? Wouldn't it be amazing if more followed their lead and signed up to volunteer?
Girl Scout troop leader Richel Newborg is never short on volunteers, but not because she's lucky—she puts in the effort to bring them into the fold. After reading her tried-and-true tips on Girl Scouts of Northern California's blog, The Trailhead, we knew we had to spread her wisdom throughout the Movement. Check out Richel's advice in her own words below, follow her lead, and watch as your troop gets all the support you could ever need!
Continue >
It's the New Year's resolution to end all New Year's resolutions, and it's so, so Girl Scouts! This year, do things a little differently, and resolve to give back to yourself by giving back to others. That's right. We're calling for a resolution of service! Because when you help others, you just can't begin to imagine how much good it actually does for your own soul. It's really the best kind of win-win.
Continue >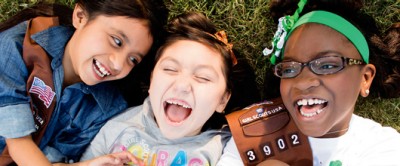 We are pleased to bring you this blog post by Dianne Belk, Founding Chair of the Juliette Gordon Low Society.
I'm writing to you from G.I.R.L. 2017—bringing together 10,000 of the brightest, toughest and most capable girls and women in the world! It is inspiring to see a sea of Girl Scout colors representing the future of our Movement and our society.
Continue >