Blog: Along Kentucky's Wilderness Road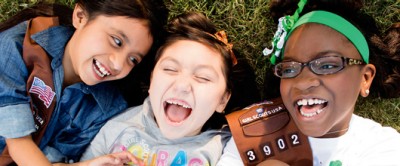 We are pleased to bring you this blog post by Dianne Belk, Founding Chair of the Juliette Gordon Low Society.
I'm writing to you from G.I.R.L. 2017—bringing together 10,000 of the brightest, toughest and most capable girls and women in the world! It is inspiring to see a sea of Girl Scout colors representing the future of our Movement and our society.
Continue >
Girl Scouts of the USA's "Building a Better World" float returned to the 91st Annual Macy's Thanksgiving Day Parade® on Thursday, November 23, 2017. Performing on the Girl Scout float this year was Grammy Award–nominated singer-songwriter Andra Day, who sang her moving anthem, "Stand Up for Something," from the film Marshall. She was also be accompanied by Grammy and Academy Award-winning artist and actor, Common, who co-wrote and is featured in the song.
The Girl Scout float design showcased a century of Girl Scout traditions and highlights today's girls as capable of making great changes to benefit society—echoing the chorus of Andra Day's and Common's song: "It all means nothing, If you don't stand up for something."
Continue >